The best season for cooking interesting and simple dishes is summer in my opinion. Of course, we can buy any vegetables in winter as well, but in summer I can feel their real freshness. I want to have vegetables as often as possible and cook something new with them. All housekeepers know all ways of vegetable cooking – boiling, frying, baking and stewing. The combinations of them are endless and every time the taste doesn't leave me indifferent at least. Opportunities to experiments are endless.Sometimes I am too lazy to experiment myself and rely on the internet. Last time when I was searching it I was enriched by a new recipe of this blogger. The name attracted me immediately – Summer vegetable tian. Can you imagine my happiness and joy? I just had to learn what tian is.
It turned to be a dish of sliced vegetables that are fried in olive oil and baked. Isn't it interesting? Yes, it is! I cooked this dish at once and I loved it for plenty of various vegetables, which I like so much. Garlic and cheese add and reveal the taste of tian. I had it as a side dish to chicken and I can't tell you for sure, whether main course is necessary here, because vegetables cooked by this recipe taste just perfect to be eaten without anything else. Women who keep their figure will appreciate this dish and men who always need meat will have these vegetables as a side dish to their favorite meat.If you are as fan of vegetable dishes as I am, welcome to my club and I recommend you cooking the dish by this recipe.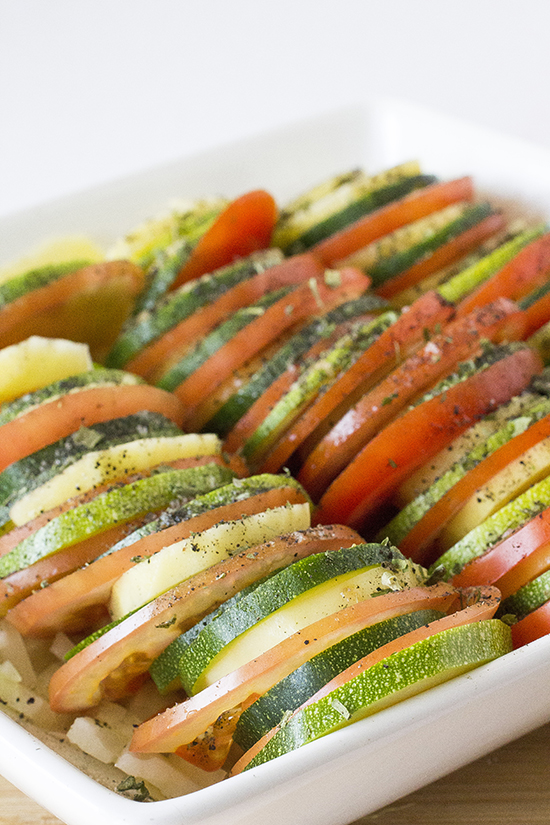 Summer Vegetable Tian
2015-09-13 10:43:41
Ingredients
olive oil – 1 tablespoon
yellow onion – 1 piece(medium size)
minced garlic – 1 teaspoon
zucchini – 1 piece(medium size)
yellow squash – 1 piece(medium size)
medium potato - 1 piece(medium size)
medium tomato - 1 piece(medium size)
dried thyme – 1 teaspoon
taste salt & pepper – to taste
shredded Italian cheese – 1 cup
Instructions
Heat the oven to 400 degrees. Dice the onion and mince the garlic. Fry them in a skillet with olive oil about five minutes.
While the onion and garlic are in the skillet, slice the rest of the vegetables thinly
Spray the inside of a square(8×8 ) or round baking dish with non-stick spray. Arrange the softened onion and garlic in the bottom of the dish. Put the sliced vegetables in the baking dish in an alternating pattern. Generously sprinkle with salt, pepper, and thyme.
YumExpert http://yumexpert.com/