I was really disappointed when Japanese cuisine became a trend. I always loved this country, its traditions and cuisine and suddenly everyone paid attention to the same things just because of the fashion for all Japanese. Well, let it be. I don't follow the rules of fashion; I was in love with these things long ago. The only thing is good in this situation – the recipes of Japanese dishes are not a problem to be found in the internet. So, I can cook everything I tasted at restaurants before.Recently I faced a recipe of a dish with use of teriyaki sauce. It was on this food blog not much time ago.

At first I sighed deeply, being sure that was a stupid remake of some Japanese dish. No, I was very wrong! The description of the ingredients and making persuaded me that it must be a great meat dish. By the way, my husband asked about some yummy (he means meat dishes only) at weekend. So, that recipe was very handy.I did it. I cooked those grilled pork chops with teriyaki sauce and pineapples. It was a real party for both of us. The taste of this dish doesn't resemble anything. It is original and incredible! If you have party cook these chops and your guests will be absolutely delighted. If don't have a special date or occasion cook it for your family and you will become the goddess of cooking for them. Just don't tell anybody that it was easy for you to cook it because it is really true.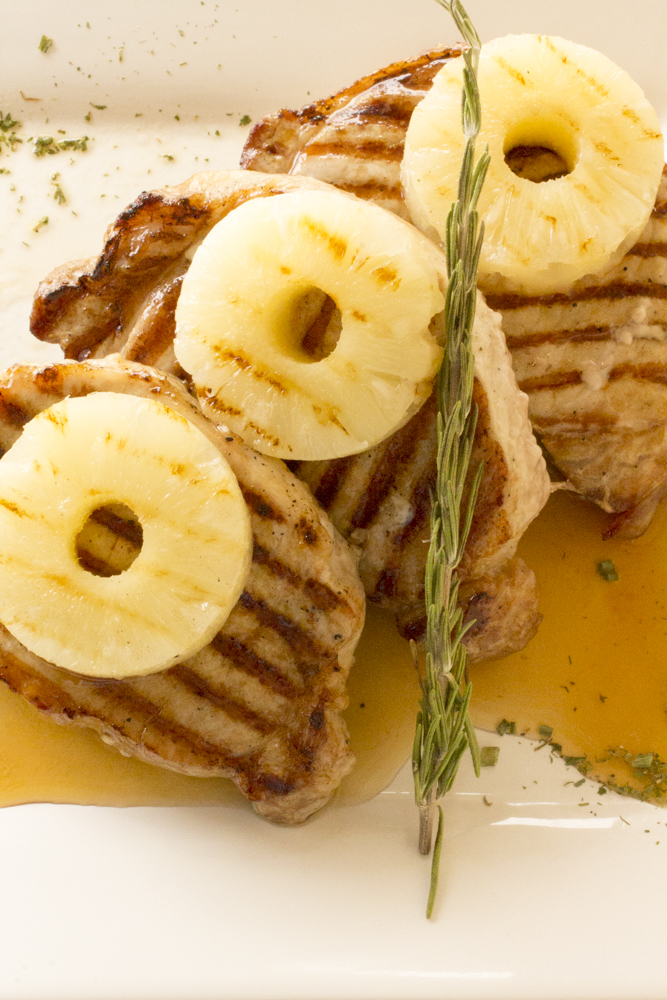 Skinny Pineapple Teriyaki Pork Chops
2015-10-02 16:31:21
Ingredients
Orange juice – 1\3 cup
Soy sauce (less sodium) – 2 Tbsp.
Rice vinegar – 1 Tbsp.
brown sugar – 1 Tbsp.
ground ginger – 1\2 tsp.
onion (powder) – 1\2 tsp.
Garlic (powder) – 1\2 tsp.
Boneless pork chops, trimmed of fat – 4 pieces of 4 oz.
Cornstarch – 2 tsp.
pineapple rings (sliced thick) – 4 pieces
Instructions
For the marinade blend together the orange juice, soy sauce, brown sugar, rice vinegar, ground ginger, onion powder, and garlic powder.
Put the pork chops in a large bag (resealable one) and cover with marinade. Seal the bag and put it in the refrigerator for 2 hours or the whole night.
Replace the pork chops to a flat dish. Pour the marinade out into a small saucepan.
Dissolve the cornstarch into 2 teaspoons of cold water in a separate small dish. Make slurry and leave aside.
Bring the marinade to a boil in a small saucepan. Reduce the heat to low and add the cornstarch slurry. Whisk together for 2 minutes until the sauce gets thick and take away from heat; put aside. This marinade sauce will be necessary while you are grilling the pork chops and pineapple.
Preheat the grill over medium-high heat. Lightly coat the grill rack with nonstick cooking spray.
Put the pork chops on the grill and brush thick with marinade sauce while cooking. Cook the pork chops on each side for 4 to 5 minutes.
Put the pineapple slices to the grill too and cook for 1 to 2 minutes on both sides.
Leave the pork chops to rest for 2 to 4 minutes before serving.
YumExpert http://yumexpert.com/