I have just come back from Italy and I can confess that I am in love with this expressive country. Italian cuisine dived and settled in my heart forever, this way it was brought to my home. I also brought a lot of various souvenirs for my relatives and friends. So, all of my close people were going to visit me and have arrival party. I had to cook something special for them because I missed these noisy guys so much. The question was – what kind of dishes should I cook. The cuisine had to be Italian for sure, but what would be interesting for my company – I didn't know.In Italy I tasted a lot of dishes cooked of vegetables and Italian cheese – they are my favorite ones.

So, I was on the right way, but I didn't know any recipe actually. What did I do? I surfed the internet of course. There are countless recipes in the internet of course, but I had good luck
here
– Skinny eggplant rollatini – the recipe of eggplant rolls but Italian variant. The filing is the main thing in these rolls of course. Mozzarella and parmesan made the taste refined and absolutely Italian. You must know that these eggplant rolls were the main course on my table for the guests. They were sure that I had brought the recipe from Italy. I didn't want to disappoint them and agreed that I am good girl – I brought not only good memories and souvenirs, but recipe too. They fell in love with Italy too. It is thanks recipe of rollatini. Such a cheesy taste, flavor of garlic can't leave anybody indifferent.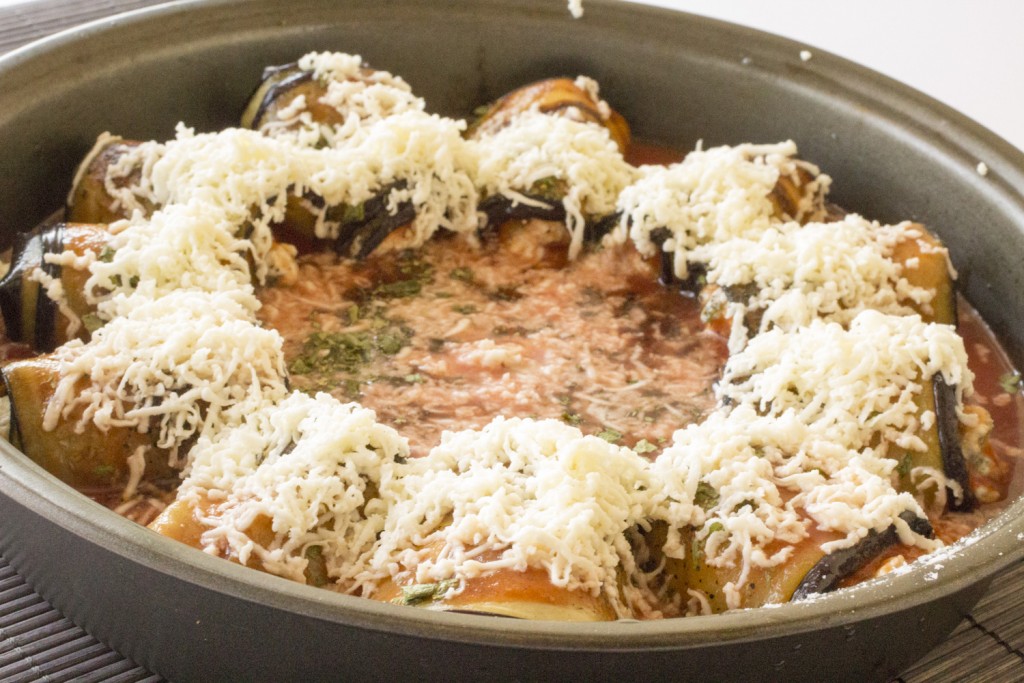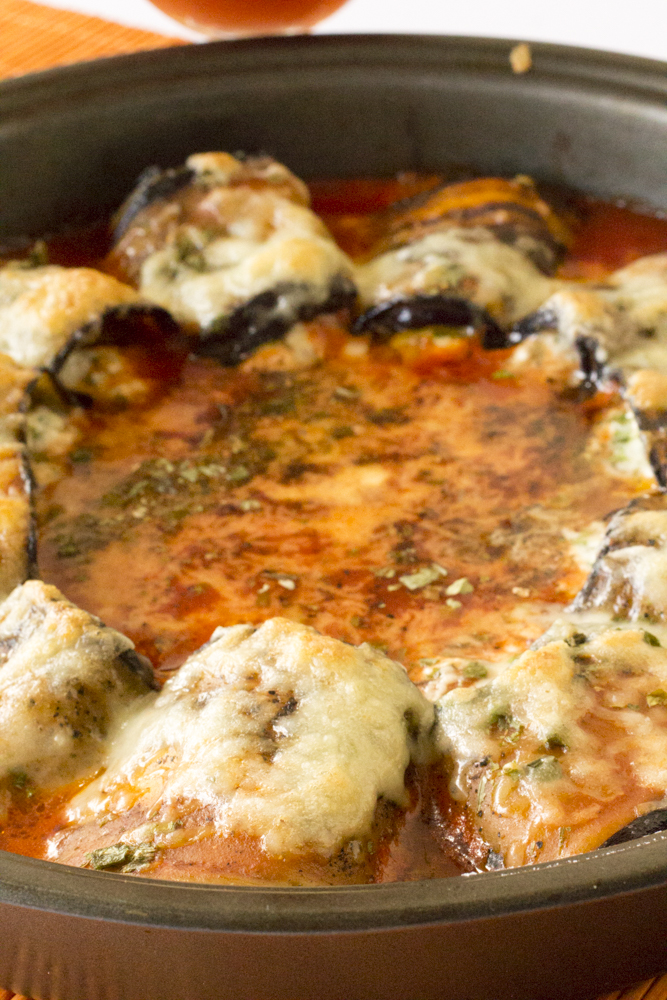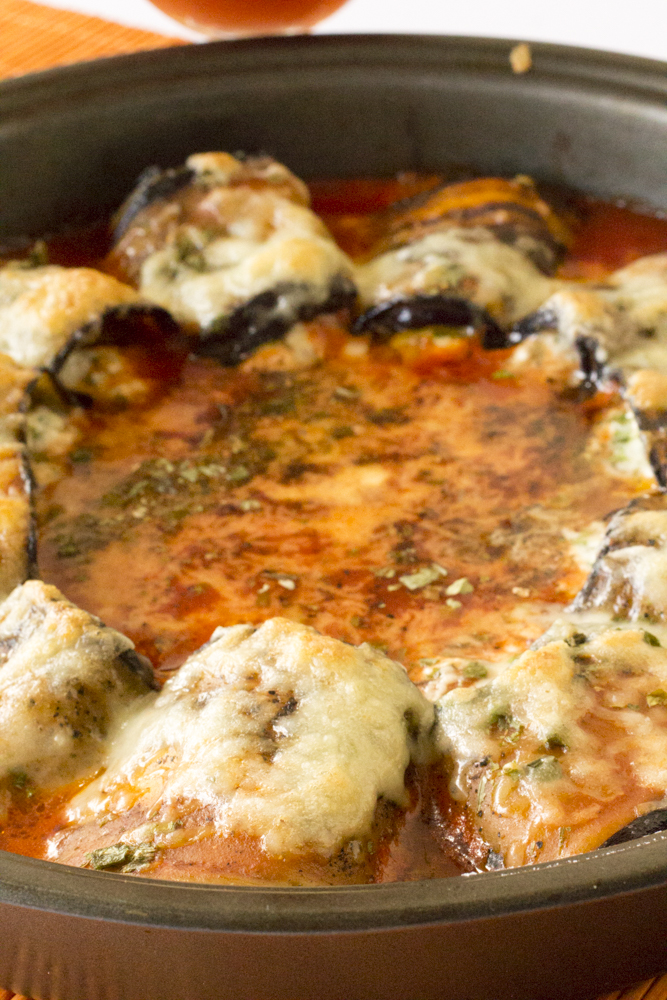 Skinny Eggplant Rollatini
2015-09-12 10:59:25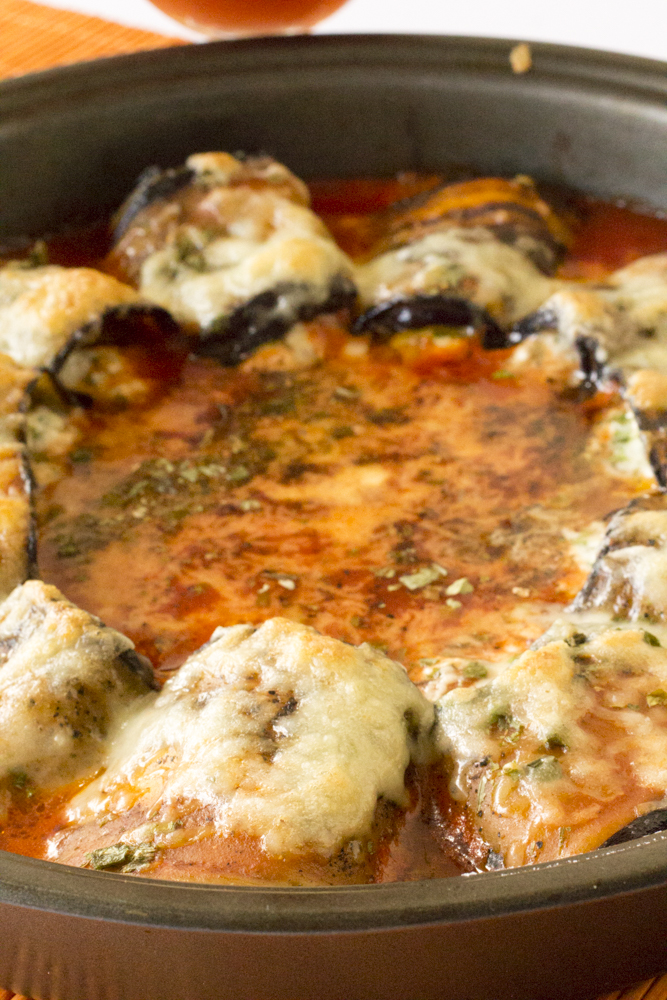 Ingredients
eggplants – 2 large pieces
low fat ricotta – 1 cup(9oz)
light mozzarella(shredded) – 1 cup and 1\2 cup
parmesan (shredded) – 1\2 cup
1 egg
frozen spinach – 9oz\250g (thawed, squeezed to remove all liquid)
1 garlic clove, germ removed, minced
Salt, pepper to taste
tomato pasta or marinara – 1 cup
Instructions
Heat oven to 400F/200C.
Cut off eggplants' ends and slice them – 12 pieces. Spray a baking sheet with olive oil and place the slices on it. Baking time is10 minutes, get the eggplants out of the oven and let cool.
Make ricotta/spinach mixture. Combine ricotta, mozzarella (1/2 cup), parmesan, spinach, egg and garlic. Mix well and season with salt\pepper to taste.
Put half of tomato sauce on the bottom of a large baking dish.
Generously lay out ricotta/spinach mixture on the slices of eggplants, roll them and arrange seam side down in the prepared dish.
YumExpert http://yumexpert.com/