Being a child I had fantastic summer holidays in the countryside where my grandparents live. That was a real freedom. A lot of reasons. No one made me do that I didn't want to. I could hike to the hills in the neighborhood and explore the nature. I was gathering different flowers that were supposed to be magic. Wearing a wreath made of them I turned to be the queen of those hills. No animals could frighten me because all of them were my subjects and friends at the same time. Once I lost my way home but I wasn't frightened – I asked a hedgehog to tell my grandparents about my problem. I was a child and I believed it would work and at night my grandpa found me of course(he knew about my hike to the hills and he knew all the paths all around). Next time I had a trip to the forest. It was so exciting to find bushes of wild raspberry or blackberry that grew on their own and nobody could forbid me to eat as many berries as I wanted. But I had a basket and brought it filled up with various berries to treat my grandma and grandpa.
I can't forget the cake which the grandmother baked with those berries. I woke up to the incredible smell of something that I could swallow without looking at. How sweet and fresh it was! Having become a little older I asked my grandma to teach me baking it, but she didn't have a recipe – 'just cooked inspired with some ingredients'. But I did found this recipe on this
blog
that brought the taste of the summer hills and forest. Double Berry Swirl Yogurt Loaf Cake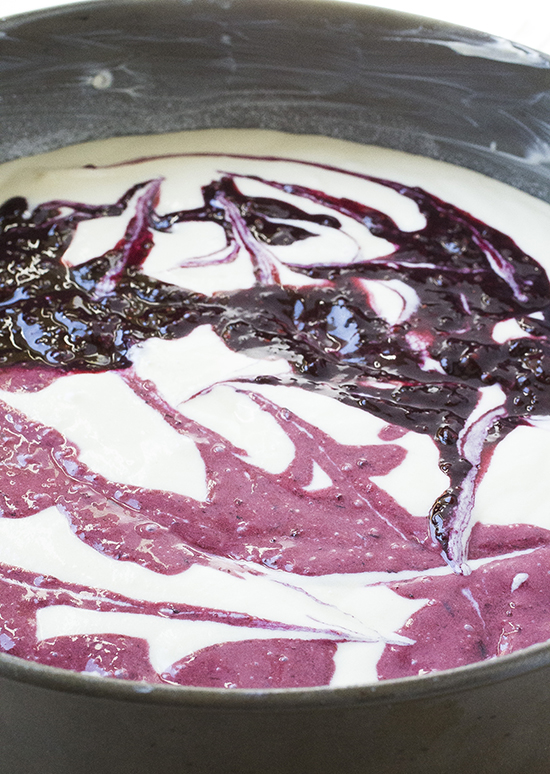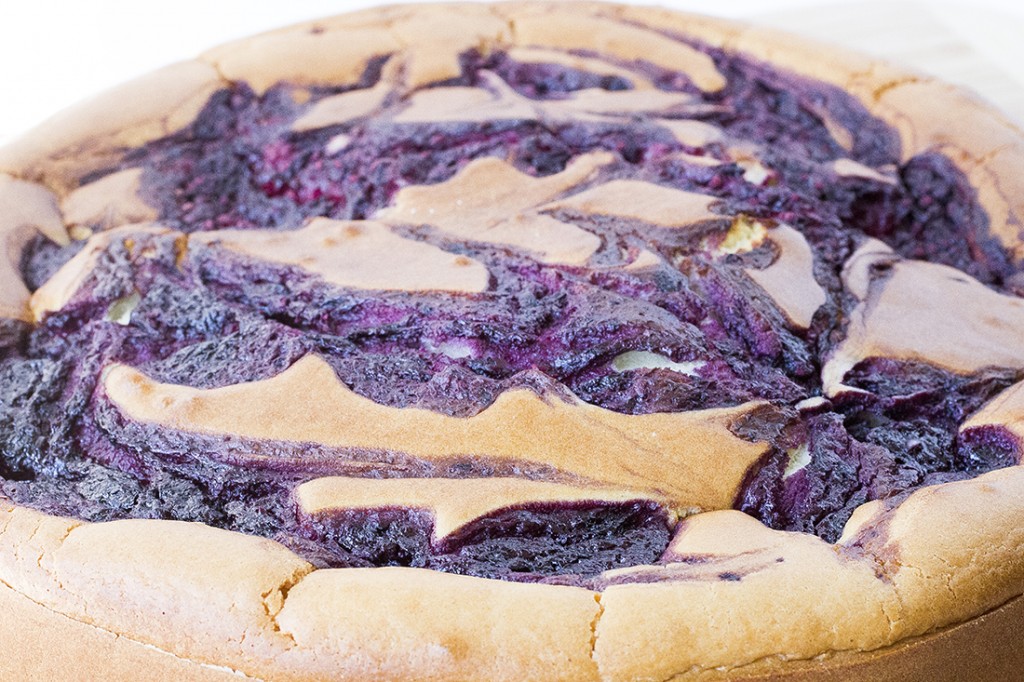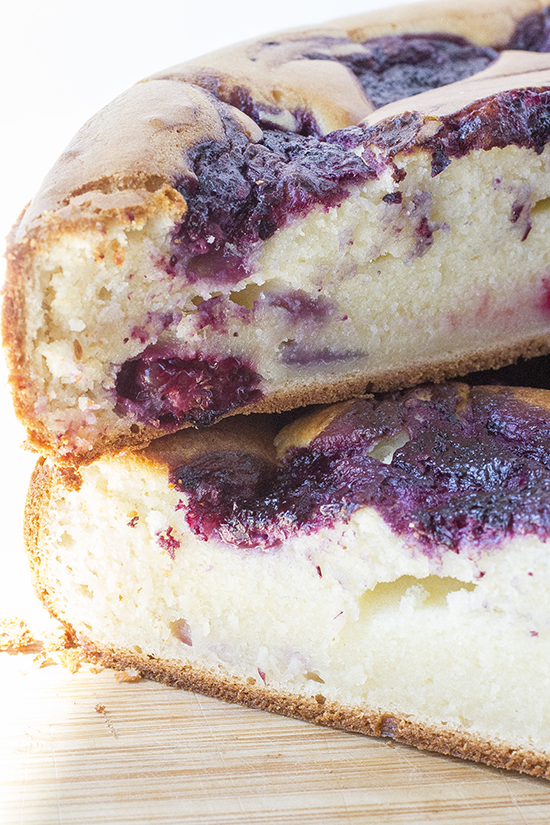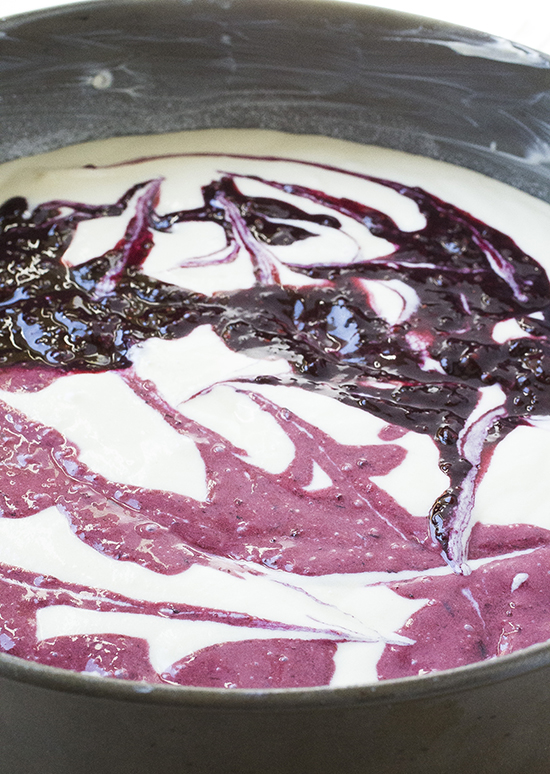 Double Berry Swirl Yogurt Loaf Cake
2015-09-10 11:59:20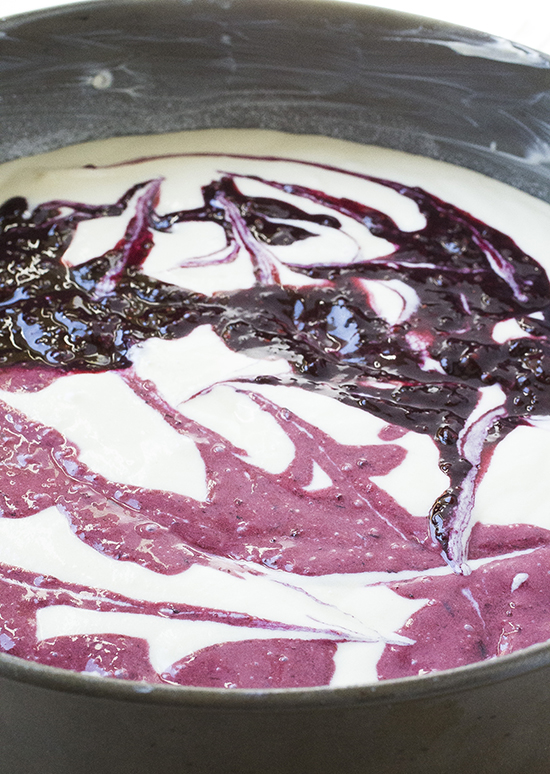 Ingredients
blackberries - 3 ounces (about a scant ¾ cup)
raspberries - 3 ounces (about a scant ¾ cup)
unsalted butter of room temperature -½ cup (1 stick) + some more for pan
sugar - 1¼ cups + 2 tablespoons
all-purpose flour - 1½ cups
coarse salt - 0,5 teaspoon
baking powder - ¼ teaspoon
eggs – 2pcs
pure vanilla extract - 0,5 teaspoon
Greek Yogurt, room temperature - 0,5 cup
Instructions
Have your oven preheated to 350 degrees F. Line a loaf pan with parchment paper but leave a little overhang on all sides; then put some butter(you can use oil if you wish) on the parchment. Make a smoothie of blackberries with 1 tablespoon sugar in a food processor. Do the same with raspberries with 1 tablespoon of sugar without the processor. Pour into separate bowls and put aside.Whisk together flour, salt, and baking powder in a medium bowl.
In a large bowl beat together butter (or oil) and 1¼ cups sugar with a mixer until it becomes light and fluffy - about 5 minutes. Add eggs and vanilla and combine them beating in a bowl as needed. Mix on low, add flour mixture in 3 additions, alternating with Greek yogurt, begin and end with flour mixture.
Stir 2 to 3 tablespoons of the cake batter into the bowl with the blackberry puree to get uniformity. Stir 2 to 3 tablespoons of the cake batter into the bowl of raspberry puree to get uniformity.
Pour half the plain paste into the pan and stir with ½ of the blackberry puree -pour half the raspberry puree in the batter. Swirl slightly using a skewer or knife. Top with remaining plain batter and dot with raspberry and blackberry batter as you did with the first layer. Again, swirl the puree-batter mixes into the plain batter - pushing a skewer or knife all the way to the bottom for a full marble.
Bake until you can see golden brown, insert a toothstick in the center of cake, it must come out dry. It will take about 1¼ hours. Leave it in pan for 30 minutes. Serve the cake cool.
YumExpert http://yumexpert.com/