I don't live in the kitchen, that is, I don't spend much time there – it is honestly. I cook for my husband of course, but more often he doesn't let me cook after work and have dinner outside. I don't know for sure, whether he finds me too tired to do anything at home, or dislikes my cooking. I was going to check it.I needed a good recipe of nourishing, delicious and not very difficult dish. My colleagues gave me some recipes, but that was wrong – I needed something special to prove (if it was necessary) that I am the best wife and cook in the world.Thank you, my dear inventors of the internet! I found that so much needed recipe
here
.
Follow the recipe and learn what is "yummy" for a man.
I studied the ingredients, bought the ones that were missing and started. Cooking pasta is easy even for a child – ok, I did that. Then playing with ingredients in a skillet – I've loved having fun with it since childhood. In the end I topped my masterpiece in the skillet with a piece of bacon. I started swallowing. Thank God – my husband returned from work! He ran into the kitchen and he was astonished – a dish of Creamy Stove Mac with Bacon was in the centre of the table, waiting for him.What did he say, eating and after it? Just – "yummy" and "can you cook the same tomorrow?"
Men don't need too many words and this time I didn't need them either. Simply yummy!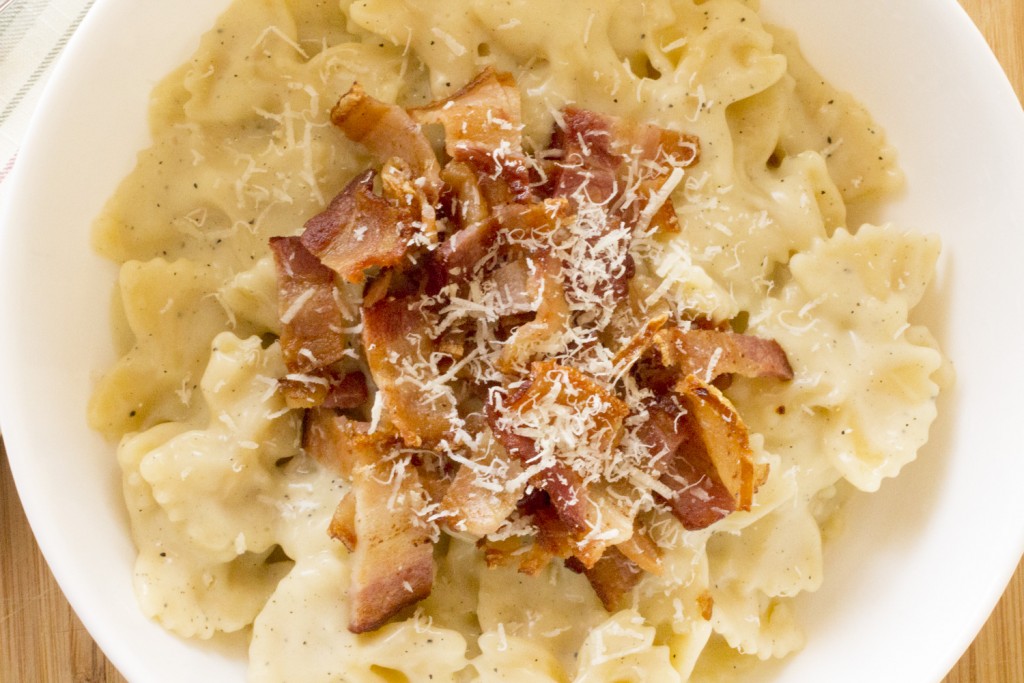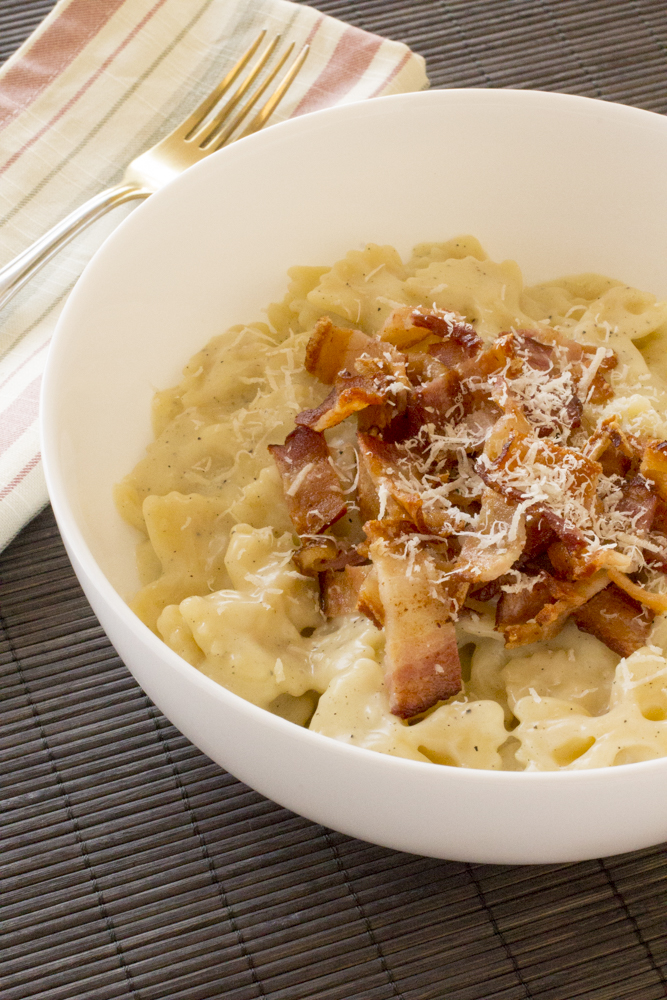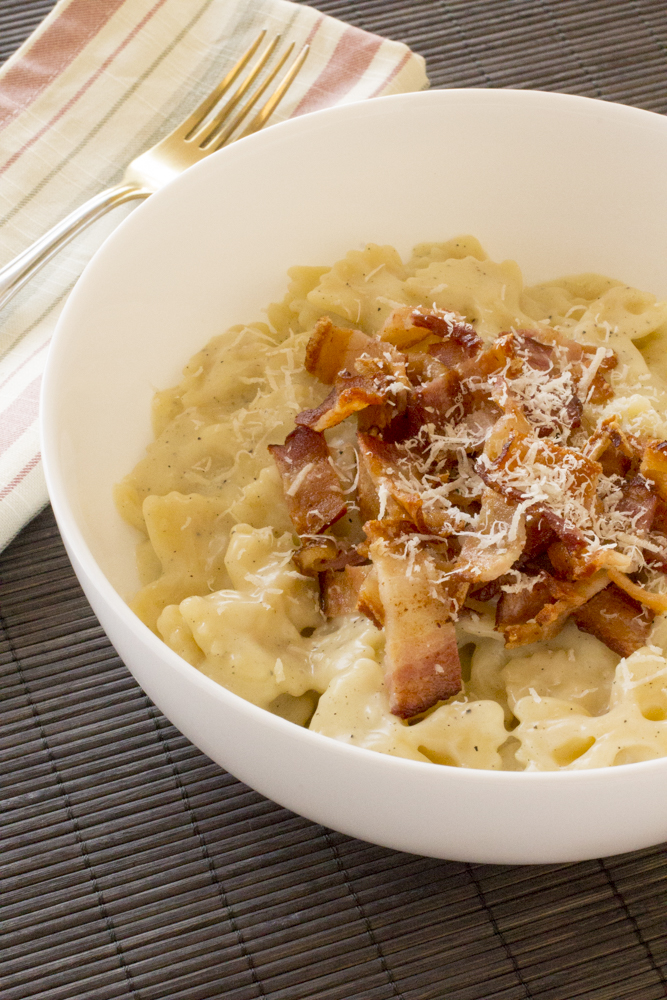 Creamy Stove Top Mac with Bacon
2015-09-18 12:58:36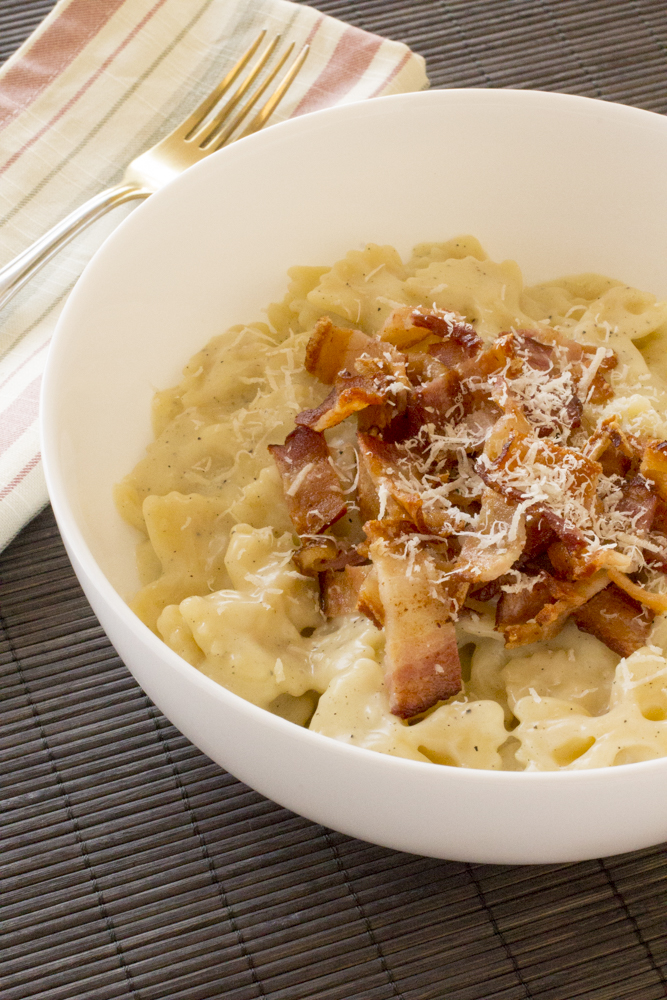 Ingredients
penne pasta – 1 lb
diced bacon – 1 pack
sharp cheddar cheese (grated) and jack cheese – 3 cups of each
parmesan cheese(grated) – 1\2 cup
diced onion – 1 piece
heavy cream – 2 cups
butter – 2 Tbsp.
flour – 2 Tbsp.
creole seasoning – 2 tsp.
black pepper – 2 tsp
garlic powder – 1 tsp.
onion powder – 1 tsp.
extra virgin olive oil
salt (for boiling pasta)
Instructions
Cook pasta according to package directions minus 1 minute. Drain and rinse pasta, drop in a little olive oil and put aside.
Add 1 tablespoonful of olive oil into a medium skillet over medium heat, add bacon and cook until crispy. Drain bacon, get 2 tablespoons of bacon grease, add 2 tablespoons of butter and onion - cook for about 5 minutes. Add flour and cook some more minutes.
Season and mix well. Turn heat to medium-low. Add heavy cream and cheese by the cupful, mixing well. Fold the mixture in pasta and mix well. Cover the top with bacon and enjoy!
YumExpert http://yumexpert.com/