These baked egg galettes are much better than plain and boring fried egg. These are also loaded with sour cream, bell peppers, onions and savory herbs and spices. The flaky puff pastry filled with all the tastiness of veggies and perfectly baked eggs will bring you tons of palatable tastes. The red pepper and baked egg galettes will be ready in half an hour, which makes them so great for quick breakfast. Pretty easy to share and handy galettes can even serve as a party appetiser or being taken to picnic or potluck.Here you can find more tasty recipes.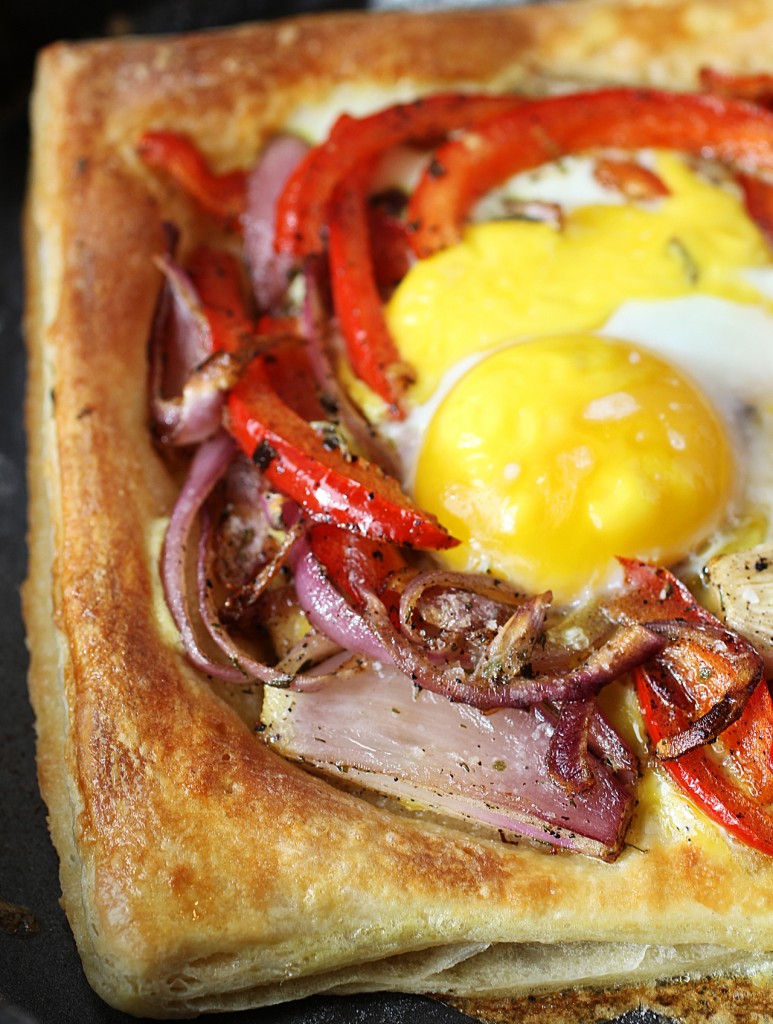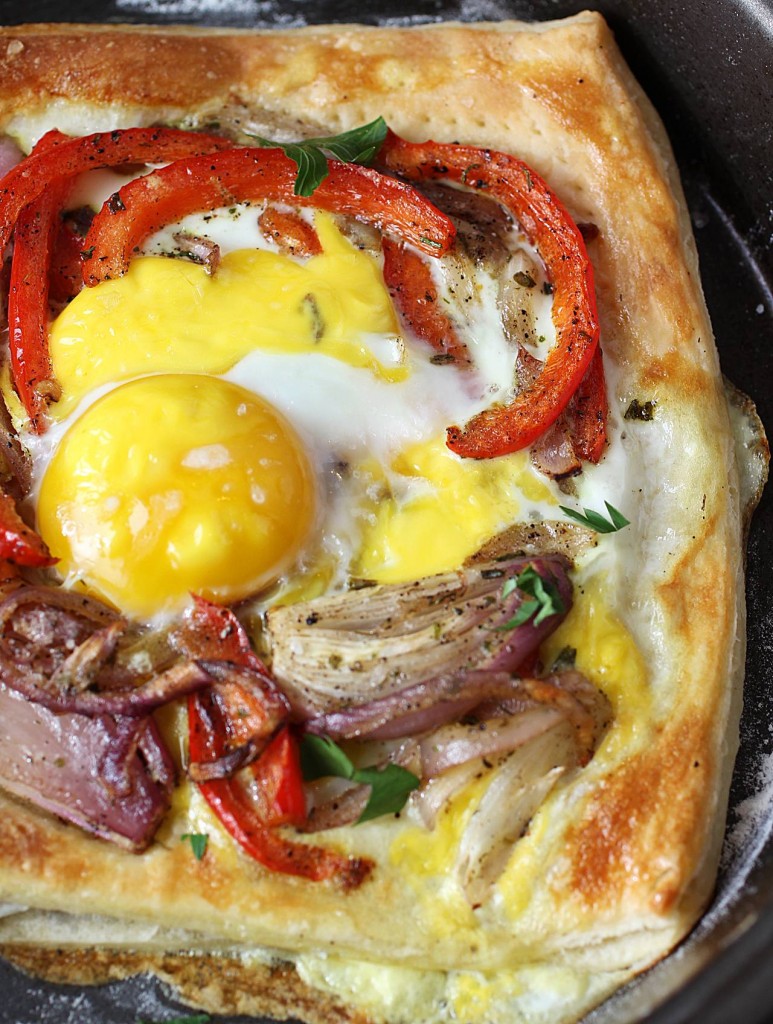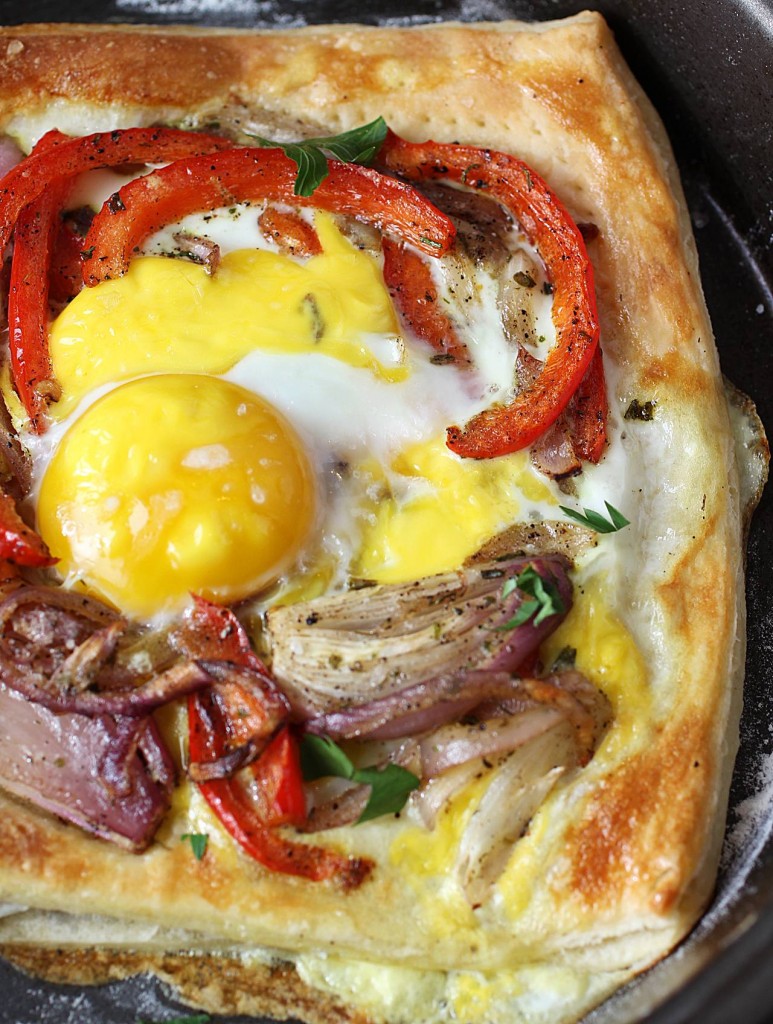 Red Pepper And Baked Egg Galettes
2015-08-28 05:43:42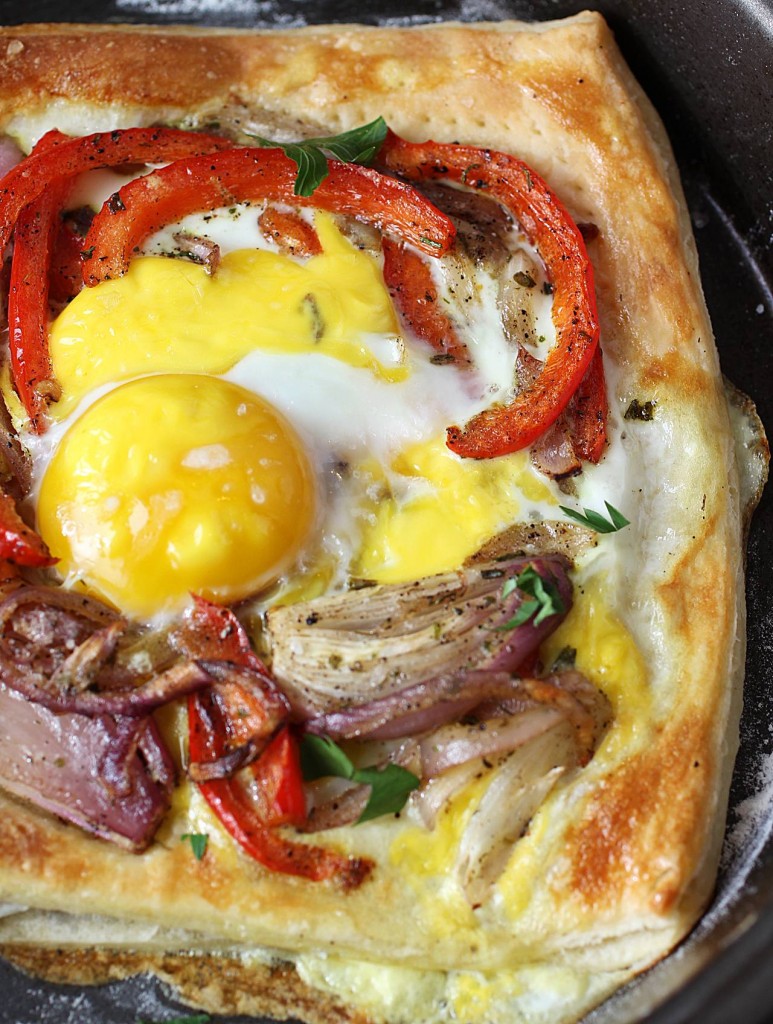 Ingredients
2 large red bell peppers, cut into 1/2 inch strips
2 small onions, (red or white) halved and cut into 1/2 inch wedges
fresh thyme, leaves removed
1 tsp cumin
1 tsp coriander
6 tbsp olive oil
fresh parsley, chopped
fresh cilantro, chopped
1 sheet puff pastry, thawed
1 egg, beaten, for brushing the pastry
12 tsp sour cream
4 large fresh eggs
salt and freshly ground black pepper, to taste
Instructions
Preheat oven to 400 F.
Combine pepper, onions, thyme and spices in a bowl. Add olive oil and toss to combine until vegetables evenly coated.
Place bell pepper mixture on a baking sheet and roast for about 30 minutes, stirring occasionally. Sprinkle with half the fresh herbs and set aside.
Turn the heat up to 425 F. Unroll the pastry on a surface dusted with flour to a 12x12″ square. Cut into four 6″ squares. Transfer on two baking sheets lined with parchment paper or silicon pat.
Using a dull knife, emboss a 1/4″ frame inside of each square of pastry. Do not cut all the way through. Pierce the insides of the frames using a fork. Place into the refrigerator for 30 minutes.
Remove from the refrigerator and brush with a beaten egg. Spread with 3 tsp of sour cream.
Spread bell pepper mixture evenly atop of each square, keeping within the embossed frame limits, and leave a hollow in the center for the egg.
Bake for about 10 minutes until risen and slightly browned.
Remove from heat and pour egg into the center of each square.
Return into the oven and bake for another 10 minutes, or until the egg is set.
Season with salt, pepper, and the remaining herbs. Drizzle with olive oil and serve immediately.
YumExpert http://yumexpert.com/
[/su_expand]