Can there be any special or unusual dishes on the morning table when you want to sleep more than to eat? It is a problem for most people who work. The way out is following – cooking in the evening or have an unusual breakfast on weekends when it is almost lunch.Once I got bored of trivial morning meal so much that the decision to make a party on a Sunday morning was made without hesitation. The recipe on this
blog
was the very thing I needed. All the ingredients I found in my fridge and it was one more in favor of making a special breakfast and following the recipe.I baked that "braid" and morning of that Sunday turned to a fest. My daughter even called her friend to boast of our breakfast and invited her to have a piece of out braid for lunch. But there were only crumbs on the plates after our big family eating. The pieces full with juicy ham-cheese filling and garlic flavor made our stomachs simply huge.Now we have a tradition – ham-egg-cheese braid for breakfast on Sunday. I love baking and my family adores this braid.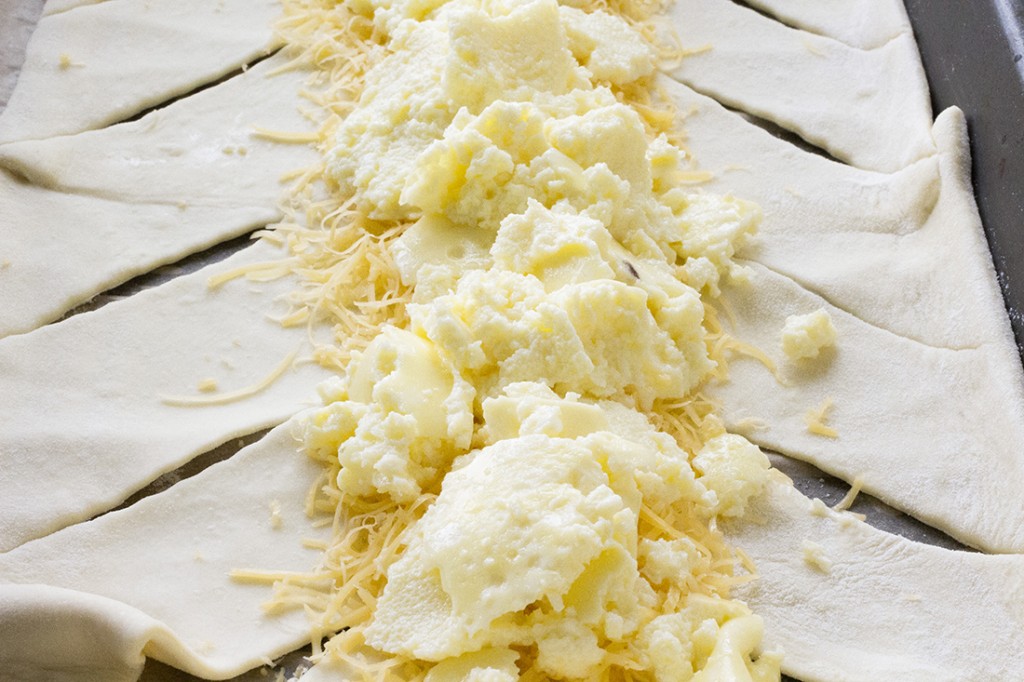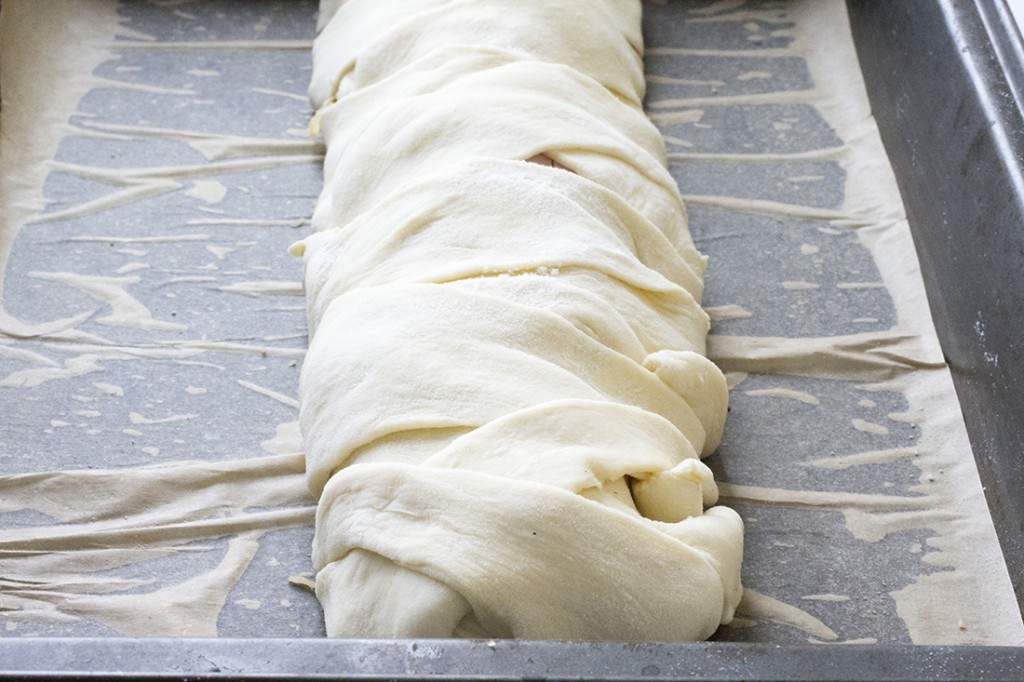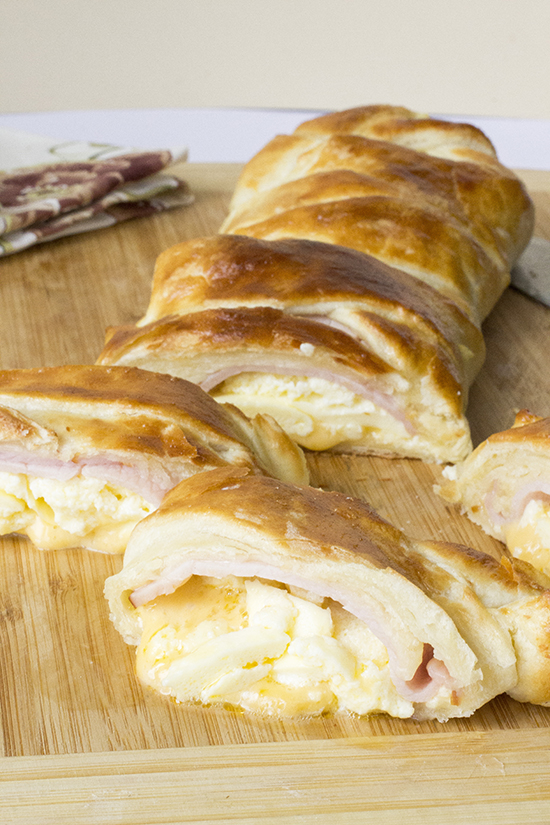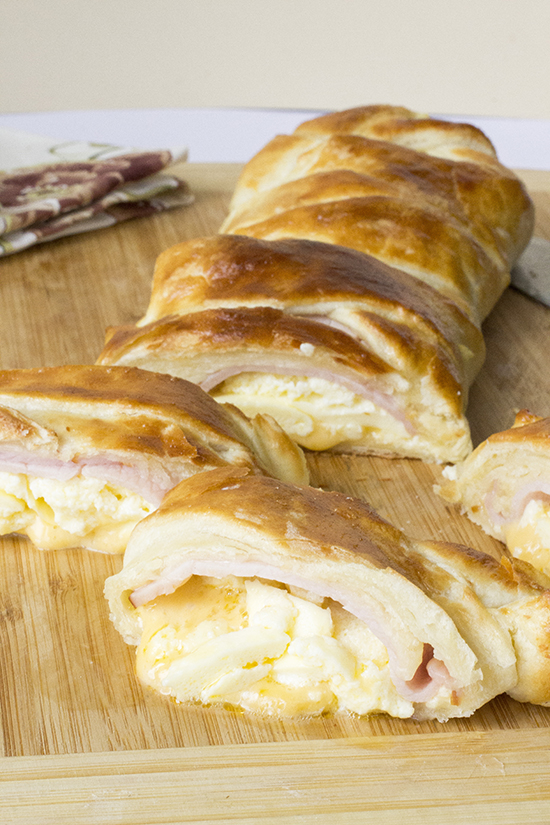 Ham-Egg-Cheese Breakfast Braid
2015-09-25 09:30:56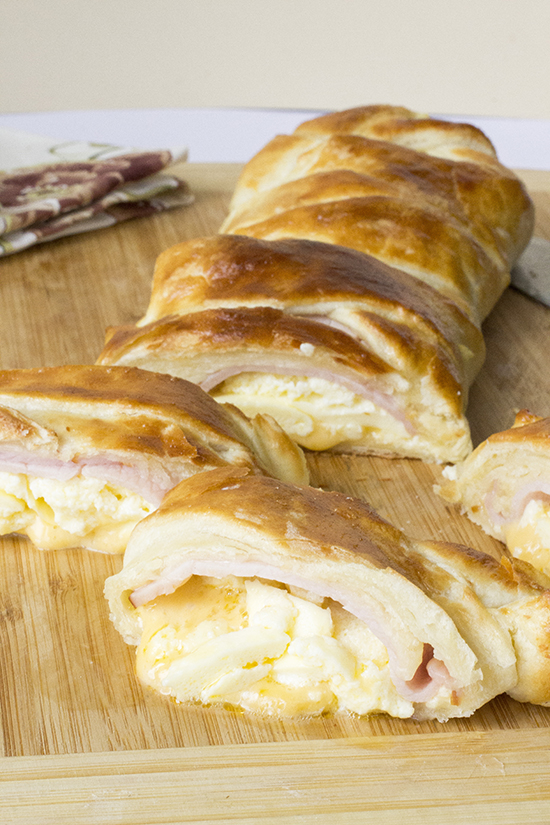 Ingredients
milk - 1\2 cup
cream cheese (softened) - 4 ounces
eggs - 8 pieces
Cheddar cheese (shred it) – 1 cup
Ham (cooked and thinly sliced) - 4 ounces
powder of garlic – 1\2 tsp.
powder of onion– 1\2 tsp.
crescent roll dough (from a fridge) – 2 packages(8 ounces)
salt & pepper to your taste
Instructions
The oven temperature - 375 degrees F (190 degrees C).
Whip milk and cream cheese together to get it smooth. Add eggs, garlic powder, onion powder, salt, pepper. Oil a skillet a little and heat it over medium high heat. Cook the egg mixture in it until eggs are almost set.
Get the crescent rolls from one package and make a rectangle of it. Put it on a lightly oiled cookie sheet. The rolls from the other package put along the edges of the two longer sides of the rectangle - the broad half of the rolls must be on top of the first layer of rolls, and the ends point outside over the sides of the pan.
Put a layer of the ham down in the center of the dough. Add the cooked egg mixture on top of it and then strew the cheddar cheese over the eggs. Get the corners of the rolls together over the cheese to make a 'braid' shape.
Bake in the oven for 25 to 30 minutes – let the cheese is melt and rolls get golden brown.
YumExpert http://yumexpert.com/