I am not against healthy lifestyle and healthy food as well and porridge for breakfast is my best friend, but sometimes I am out of control. I need nothing on my plate and in my mouth but pastry. I am even desperately ready to bake myself, but my oven is not in love with me, neither am I with it. What was the solution then? Pancakes! They saved my flat from fire(if I baked), and my need in sweets was satisfied.Having cooked pancakes once I lost my head forever. I make pancakes quite often and have them for breakfast or for lunch as a dessert. I tried lots of fillings and toppings for pancakes, for example fruit, vegetables(as a main course for lunch or dinner),nuts, seeds I put inside and jam, honey, cream, condensed milk were used as toppings. After a great deal of experiments I finally found a fantastic recipe on this blog.

I am fan of cinnamon roll pancakes now and I want to introduce them to you.Follow the recipe of these pancakes and you will get them fluffy and flavored. You will remember my words, cooking them more often than you could suppose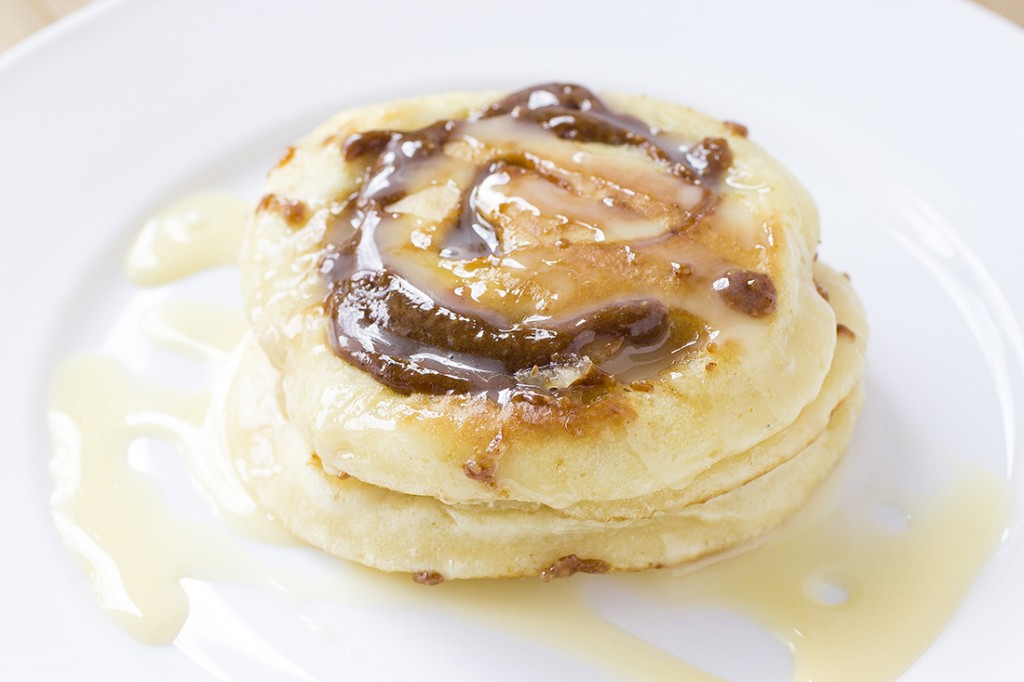 Cinnamon Roll Pancakes
2015-09-09 12:48:58
Ingredients
1 egg( beat it lightly)
Flour – 1 cup
Milk – 1 cup
Baking powder – 2 tsp.
Salt – 1\2 tsp.
Vegetable oil (or canola) – 1 tbsp.
Cinnamon filling
Ground cinnamon – 1\2 tbsp.
Unsalted butter ( melted out of fridge without heating) – 4 tbsp.
Light brown sugar – 1\4 cup + 2 tbsp.
Cream Cheese Glaze
Unsalted butter – 4 tbsp.
Cream cheese (room temperature) – 2 ounces
Powdered sugar – 3\4 cup
Vanilla extract – 1\2 tsp.
Cinnamon filling cooking
Take a bowl and stir the butter, brown sugar and cinnamon in it.. Draw the filling into a zip baggie and put it aside.
Glaze making
Heat the butter in a small pan over low heat, let it melt. Whisk in the cream cheese until it is almost smooth , having stopped heating. Put the sugar into the pan, stir it with vanilla extract. Leave the pan aside and make the pancakes.
The pancake batter
Flour, salt and baking powder whisk together in a bowl. Add milk, egg and oil and whisk once more.
Pancake cooking
Take a large non-stick skillet and heat over medium heat. Use 1\3 measuring cup to pour the batter into a pan. Spread the batter into a circle (about 4-inches in diameter), using the bottom of a cup or scoop. Make a snip in a bag with cinnamon filling and squeeze it on top of the pancake batter in a swirl( from the center) when you see bubbles on the batter. Cook the pancake until the bubbles popping on top of the pancake and become golden brown on the bottom. Put on the other side quickly but carefully . Cook 2 to 3 minutes more, until the other side gets golden too. Having put the pancake onto a plate, you can see the craters of cinnamon filling. Top your pancake with drizzle of glaze.
YumExpert http://yumexpert.com/