Pasta makes appealing combinations with tender and succulent meat and savory ingredients, like sauces. But this pasta is absolutely splendid, as it's not only combined with chicken and flavoursome garlic sauce, but full of wholesome spinach and tomatoes and crispy bacon. The source of my inspiration this time was this beautiful blog
JuliasAlbum
. Serve this festive and appetising chicken and bacon pasta with spinach and tomatoes in garlic sauce for a dinner this time, and you will see how much tastiness is added with such a simple set of ingredients!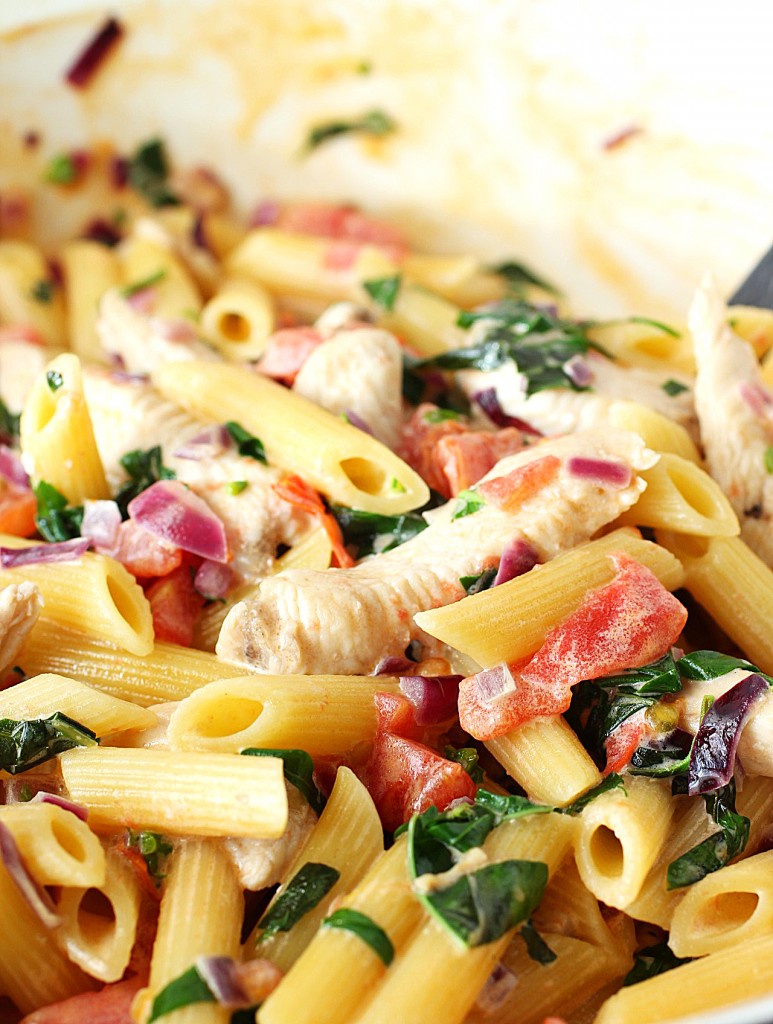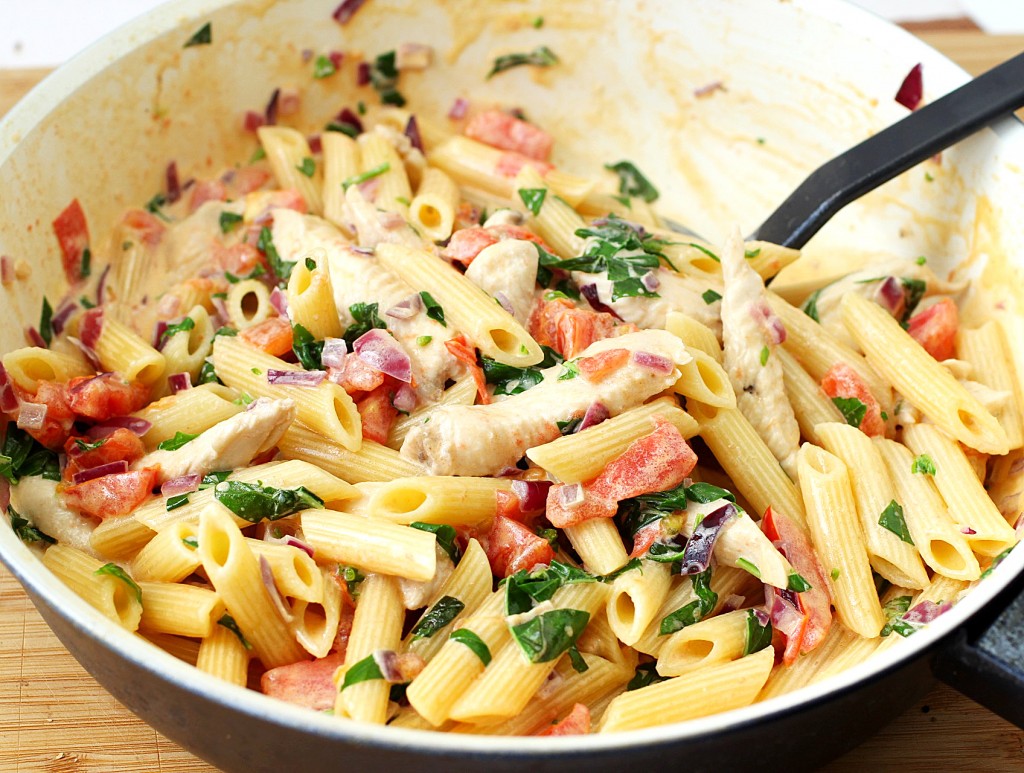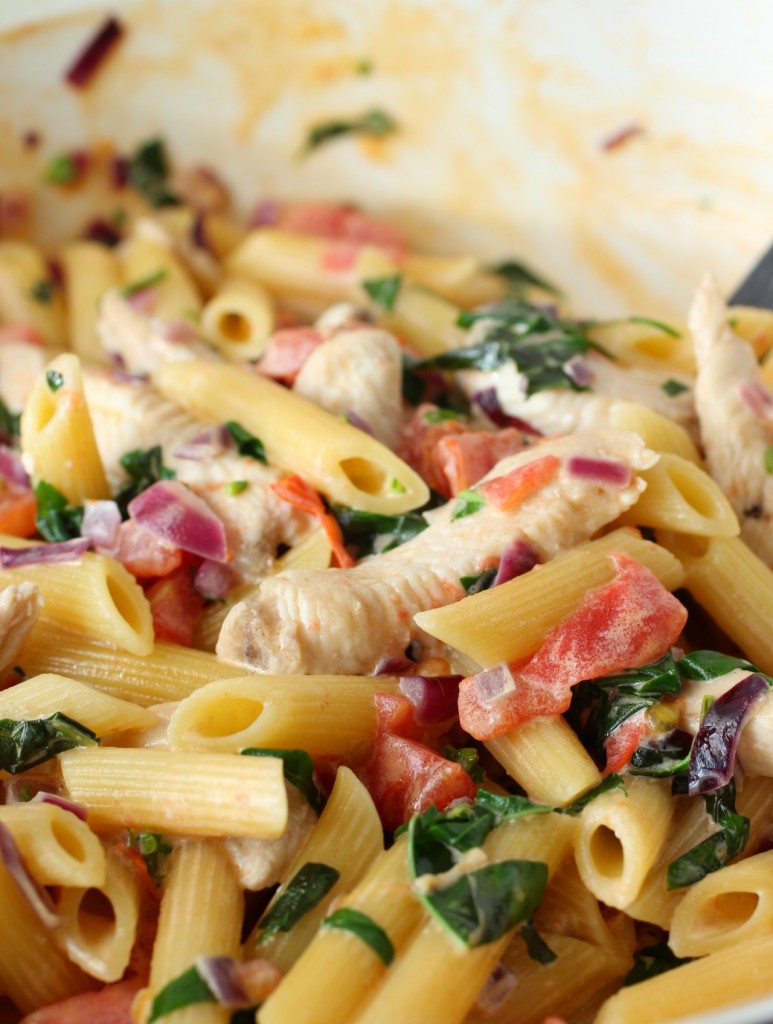 Chicken and Bacon Pasta with Spinach and Tomatoes in Garlic Cream Sauce
2015-08-12 11:11:55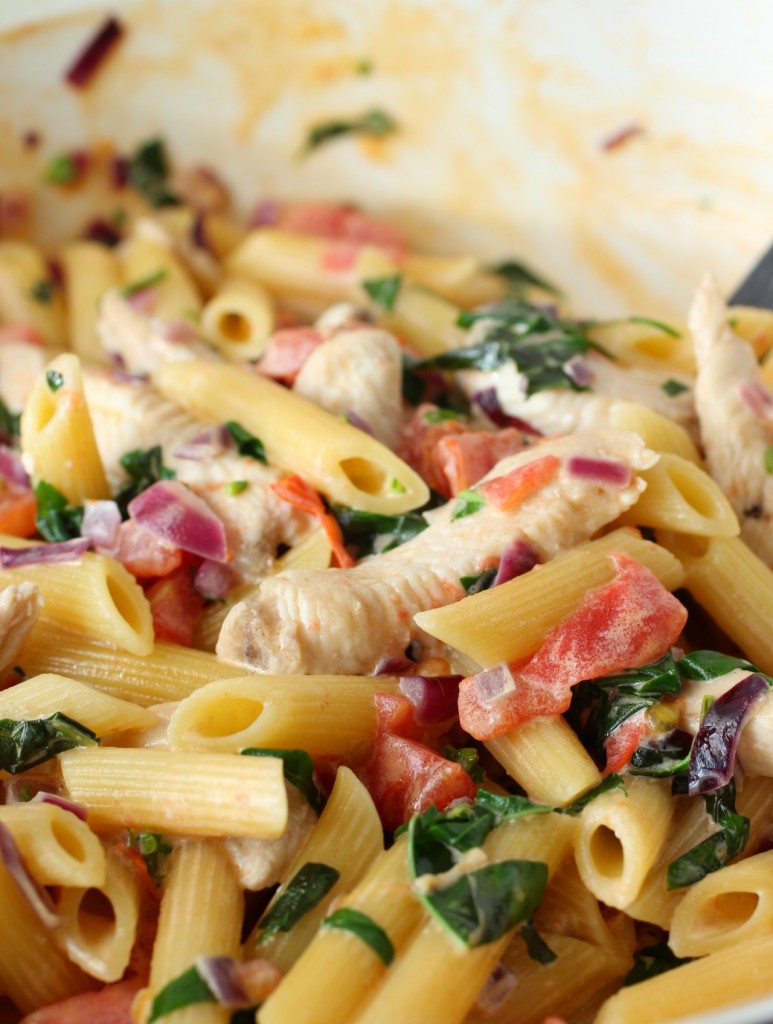 Ingredients
2 tbsp olive oil
1 pound chicken (breasts or tenders)
1 tsp paprika
1 tsp Italian seasoning
5 medium tomatoes, chopped in cubes
1 cup cooked spinach
5 garlic cloves, minced
1 tbsp crushed red pepper
6 bacon strips, cooked and chopped
1 and 1/3 cups half and half
1 and 1/3 cups Parmesan cheese, shredded
10 ounces penne pasta
1/2 cup Parmesan cheese, grated, for serving
Instructions
In a large skillet, heat 2 tbsp olive oil over high heat. Once hot, add chicken and cook on high heat for 1 minute per side. Sprinkle each side with paprika and Italian seasoning. Reduce to medium, cover with lid and cook until completely done. Remove chicken from skillet and keep it warm. Slice into thin strips.
Combine chopped tomatoes, spinach, garlic, crushed red pepper, 1/3 of the chicken, and half the bacon in the same skillet. Stir to combine.
Add half and half and bring to a boil. Then add grated Parmesan and immediately reduce to simmer. Stir occasionally, until the cheese melts, about 1 minute. Remove from heat. Adjust red pepper and salt, if desired.
Cook pasta in a large pot of boiling water according to instructions. Drain and rinse pasta under the running cold water and drain again.
Add cooked pasta and remaining bacon to the skillet with the sauce.
Serve pasta topped with remaining chicken strips and grated Parmesan cheese.
YumExpert http://yumexpert.com/