"What are we going to have on weekend morning for breakfast? " My husband puzzled me with this question because we always have either cereal flakes or fried eggs and it never depends on week day. It is fast and takes almost no time to prepare. But he wished something special. Ok. I was going to prove him that I am a good housekeeper and satisfy his need in a new dish for breakfast.There was one serious problem – I didn't want to wake up early and spend much time by my stove. I mentally asked the internet to help me and I was delighted with a wonderful recipe on this website.
It is a kind of sandwich in Italian style. Ciabatta is necessary for this dish and I often buy it. I was very glad to discover for myself a kind of sandwich with it. Caprese is well-known of course and here we have caprese in ciabatta sandwich. The direction of cooking looked simple and I risked cooking this new for me dish.What happiness! It was easy to make that wonderful breakfast dish and the smell of it awoke my dear sleepyhead (I mean husband) to have breakfast much earlier than he does at weekends.This fantastic garlic bread with caprese top amazed our eyes and taste buds. I don't regret a minute spent for cooking this simple and yummy sandwich.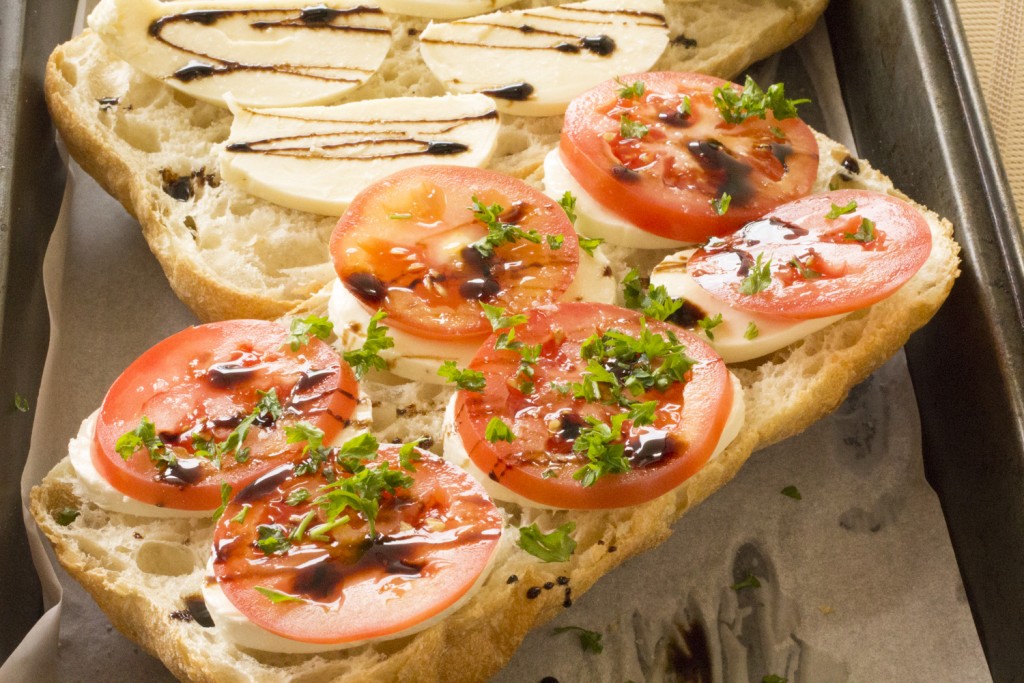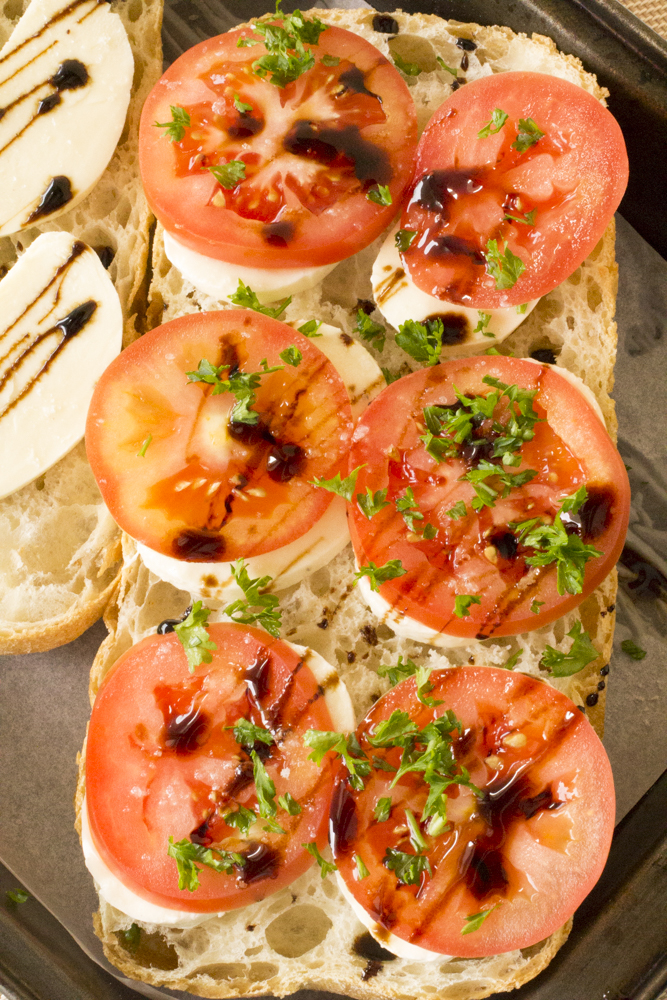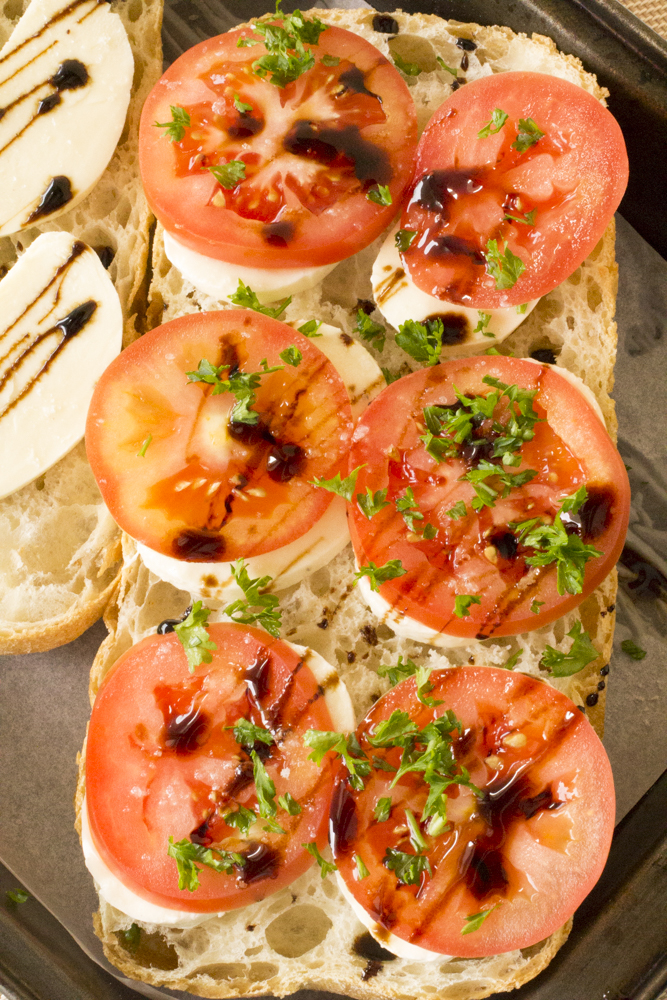 Caprese Garlic Bread
2015-10-08 15:11:44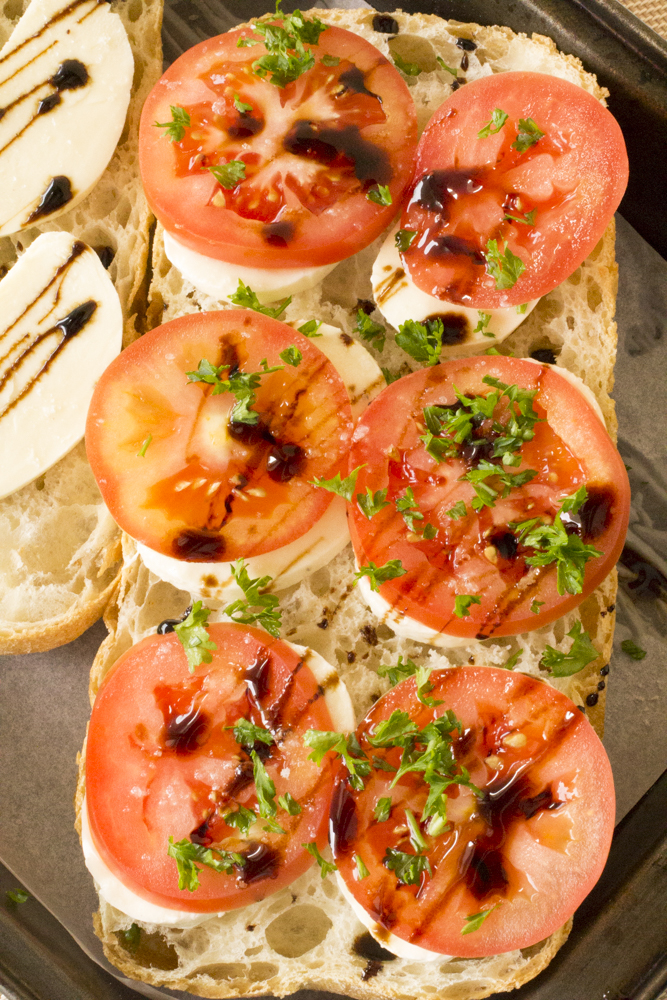 Ingredients
ciabatta bread (horizontally cut in half) – 1 loaf mozzarella cheese (sliced) – 12 oz.
salted butter – 4 Tbsp.
garlic (minced) – 3 cloves
balsamic vinegar – 1\2 cup
tomatoes (sliced) – 2 medium pieces
Salt and ground black pepper – to taste
fresh basil (chopped) – 1\3 cup
Instructions
Preheat oven to 400 degrees F. Put both sides of the bread (ciabatta) on a large baking sheet with the cut side up.
Mix butter and garlic in a small bowl and spread evenly on ciabatta halves. Put the slices of mozzarella cheese on top of the bread, covering it completely. Bake the bread in preheated to 400 degrees F for 12-15 minutes (let the cheese get melted).
During the time the bread is in the oven, prepare the balsamic reduction. Put the balsamic vinegar in a small saucepan, bring it to a boil, decrease the heat and simmer, stirring, until the mixture is reduced by nearly half. It will take about 5-7 minutes. Put aside.
Take the bread out from oven. Cover the top of the bread with tomato slices. Season with salt and pepper to taste. Drizzle with balsamic reduction and add the fresh basil. Cut into pieces and serve.
YumExpert http://yumexpert.com/